Baseball Fever - Catch It!
Day 5: Sunday, June 17, 2001
Cambridge, OH to Lexington, VA - 425 miles

The Travelodge proves to be easily the nicest hotel of the trip. It has interior hallways and electronic keycards, free shampoo and a sumptuous continental breakfast (two flavors of jelly)... truly a traveler's paradise. The only strike against it is the lack of a scoop in the ice machine, but Rob's hands are able to direct most of the projected ice into our cooler, leaving only a smattering of cubes strewn about on the ground. Our game in Pittsburgh today starts at 1:05 PM, so we get moving relatively early and hit the road for the Steel City.

Pittsburgh, contrary to popular opinion, is actually quite a beautiful city, with a clean and revitalized downtown area. Our one complaint, however, is that they need to divert some of the funds from their urban renewal budget over to the street sign department. We have quite a bit of fun trying to navigate our way through the frequently unsigned downtown streets. After a few wrong turns, our trusty Rand McNally atlas of North America manages to safely guide us to a parking garage near PNC Park, and we walk across the bright yellow Clemente Bridge toward the stadium1.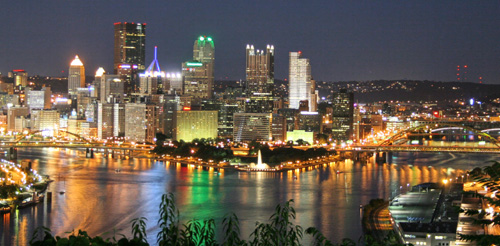 The Steel City shines at night

Cropped version of a photo taken by Ronald C. Yochum, Jr. and licensed under the Creative Commons Attribution ShareAlike 2.5 License

We take our seats in the lower level, about 20 rows up from first base, the most expensive we have purchased on our tour. We know we're in for a terrific game right from the start. Crystal clear skies + 80 degrees + sellout Sunday crowd = perfect day for baseball. 2001 is the inaugural year for PNC Park and it's still the first half of the season, so excitement abounds, not yet trampled by the inevitable despair that comes with not having fielded a winning team since popular Pirates-first-baseman-turned-Atlanta-Brave Sid Bream famously slid into home, ending Pittsburgh's season in the 1992 NLCS. The visiting team in this interleague matchup is nearby Cleveland, so a sizeable portion of the crowd is rooting for the Tribe. All in all, it's as close to a playoff atmosphere as you can get in Pittsburgh in mid-June.

The game pits Cleveland rookie C.C. Sabathia, in the midst of a fine rookie season, against Pittsburgh starter Todd Ritchie, struggling at 1-8, although several of his losses have been directly attributable to Pittsburgh's anemic offense. We get the game off to a great start on a personal level by purchasing bright yellow foam pirate swords from the roving concessionaires, and are ready to cheer the home team to victory.

The pitchers match zeroes for quite a while. As we enter the sixth inning, Sabathia has allowed only one hit, while Ritchie is still working on a no-hitter. In the top of the sixth, however, Ritchie's streak is broken on a questionable infield single by Jim Thome2. Replays show the lumbering slugger clearly out at first base, but umpire Mike Van Vleet relied on his own unique version of reality in calling him safe. Ritchie escapes the inning by inducing a double play, so the game presses on in a scoreless tie. The seventh inning is free of offense, and the eighth, while seeing a couple of hits, produces no runs. Sabathia is replaced in the home half of the eighth, having allowed only one hit all game. Ritchie continues to pitch into the ninth, however, and holds Cleveland scoreless yet again, putting the game in the hands of the Pirates' feeble offense as we move to the bottom of the inning.


PNC Park and downtown Pittsburgh

This photograph has been released into the public domain

Indians reliever Steve Karsay quickly mows down the first two Pittsburgh hitters, John Vander Wal and Jason Kendall, but can't close out the game against outfielder Brian Giles, who grounds a single to center. Third-baseman Aramis Ramirez strides to the plate, hoping to prolong the inning and keep Todd Ritchie's gem from going to waste. Ramirez hits a hard ground ball right back up the middle. Perennial Gold Glove shortstop Omar Vizquel dives to his left, but the ball hits the tip of his glove and bounds into no-man's land in right centerfield. The thick outfield grass stops the ball at a point equidistant from Vizquel, 2B Roberto Alomar, CF Kenny Lofton, and RF Juan Gonzalez. Giles rounds third and heads for the plate. Gonzalez makes his way to the ball and rifles it home, setting the stage for one of the most exciting plays in all of sports.

Every last eye in the eerily-silent sellout crowd is trained on the field as the next five seconds seem to unfold in slow motion. Giles begins his slide. Catcher Einar Diaz fields the throw from the outfield and applies the tag. The crowd, hardly even breathing at this point, turns to the umpire... and then erupts as his arms fly out to his side and he yells "SAFE!!!"3 We're no strangers to the game of baseball, but we can't ever recall seeing a winning run score from first base on what should have been a routine single up the middle. Ironically, if anyone other than Omar Vizquel had been at shortstop, the ball would have likely proceeded untouched toward Lofton in center, and the inning would have continued with men on first and third. Rob and Matt quickly agree that this is far and away the best game they have ever seen in person. This corresponds to an eBay rating of A++++++++++++++++++++++++++++++++++++++++++++++++++++ or a Siskel-and-Ebert rating of two thumbs up.

Fantasy stats:
* Brian Giles (Matt, RF, Pit) - 2/4, 1 R
* Juan Gonzalez (Rob, RF, Cle) - 0/4

Walking back across the bridge with the other 37,000 fans, we experience the rare pleasure of getting far, far more than our money's worth out of a baseball ticket. Not even horrendous postgame traffic can dampen our elated spirits as we make our way out of the city.

Two hours later, having progressed about 20 miles, our elated spirits prove somewhat dampened by horrendous postgame traffic. Finally, however, we break through and resume normal traveling speeds on our way home to Virginia. Unfortunately, this trip involves quite a bit of time on the Penna4 Turnpike5, which paradoxically is always under construction and yet never seems to have a single spot of new pavement for its entire length. This simply marks yet another round of demoralizing tolls for us: in this case the price of $8 buys us 125 miles of heavy traffic, 55 mph speed limits, and a ride that severely tests the suspension of the minivan. The only saving grace is that Matt finds a third and final snow globe, this one depicting Pittsburgh, at a travel plaza along the turnpike.


Why do they add the "A" to "PENN"? UPenn, Penn State, and William Penn all seem to make do without it

Licensed under the Creative Commons ShareAlike 1.0 License


It is here that we wish to report that electronic "Your speed is __" signs rank up there with the Pontiac Aztec and Diet Coke Plus as the stupidest inventions of all time. The few people who think they're going to get ticketed if they exceed the speed limit slow down to about 20 mph under the speed limit, while most other people jam on the accelerator so they can laugh at how fast they're going. We chuckle as we drift by the radar at 78 mph in a 55 zone.

As we wind our way south on I-70 and then US-522 through Maryland and West Virginia, we have to stop and wonder why the panhandle of Maryland doesn't belong to some other state. The bulk of Maryland's land lies to the east, and the tiny strip we cross over is less than two miles wide. Here's our proposal to fix this situation. Give West Virginia's northern arm to Ohio, annex Maryland's panhandle to West Virginia, turn over the entirety of Delaware to Maryland, and force the residents of Delaware to live on a barge in Ohio's portion of Lake Erie. The circle is closed and everything evens out in the end.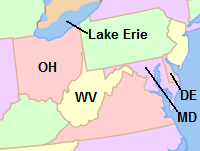 Look at that silly western part of Maryland

Licensed under the Creative Commons Attribution ShareAlike 2.0 License

We eventually make it back to the great Commonwealth of Virginia, and decide to celebrate by stopping at a Dairy Queen truck stop on I-81, just south of Winchester. This marks the second time in the trip that our idea of celebration involves a combination truck stop/fast food restaurant. Rob immediately regrets pulling over when he overhears the conversation a couple of truckers are having in the bathroom. One of them has no toilet paper in his stall, so the other helpfully suggests that he be a "real man" and use his finger instead. Hoping to clear his mind of this foul exchange, Rob orders a delicious Blizzard, a treat so hard to pass up that it should probably be on the DEA's list of controlled substances. It proves to be a bit difficult to eat while driving, however, particularly once the ice cream starts to melt, and Rob ends up wearing about half of it on his shirt.

Nearing the end of our journey, we crank up Lindsey Buckingham's "Holiday Road," featured in National Lampoon's Vacation, as we reach our 2000th mile just south of Staunton, VA. From there it's a short haul back to Lexington, the terminus of our trip, where we pull in around 9:30 PM, the triumphant arrival of our regal caravan heralded by the melodious crickets of summer.

---
Footnotes
1 Rob wishes to express that if he had the power to go back in time and watch any ten baseball figures in their prime, Roberto Clemente would easily be one of them. Considered one of the finest five-tool players in the game, Clemente's life and career were cut tragically short by a plane crash on New Years Eve of 1972. He was flying to assist the people of Managua, Nicaragua in rebuilding after an earthquake. In today's era of selfish, egomaniacal star athletes, Clemente serves as an inspiring reminder that not everyone is motivated solely by the almighty dollar. [End of rant]

2 Any time "Jim Thome" and "infield single" are used in the same sentence, one is justified in raising an eyebrow.

3 An overhead shot of Giles sliding under Diaz's tag was featured in the "Leading Off" section of Sports Illustrated's June 25, 2001 edition.

4 Dumbest abbreviation of all time.

5 Worst turnpike of all time.

---